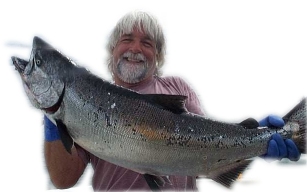 Tom Dolan
F/V MEGA-BITE
Santa Cruz Harbor, California
Dock S22
Specializing in Fresh King Salmon
King Salmon

I can take orders from a single salmon to as many salmon as you want and whatever size. Sizes typically range from 7 pounds to 35 pounds. The fish will already be professionally Grade-A (sushi grade) cleaned. Grade-A is whole fish without the guts and bled out.
I have the best quality seafood - guaranteed! I sell whole, cleaned and ready for cooking fresh caught king salmon. Sustainability! For salmon I only troll catch using line and barbless hook which makes my job a bit more difficult but it brings you the absolute best fish you can buy. I catch salmon in Monterey Bay and up as far as Ano Nuevo (New Years Island). I always do same day trips so you can be assured the fish you're buying is FRESH!
To make things easier for you, in addition to accepting cash, I accept personal checks, VISA, MasterCard, Amex and Discover. And yes, I give a discount to my valued repeat clients.
You may want to call 1-831-818-8808 / 1-888-662-9800 to see if I have fish and also call me if you would like to place an order so I can have a fish waiting for you.
Eat healthy and wise. Eat my fish!